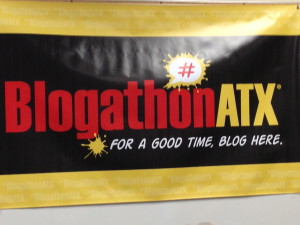 Austin Bloggers Mingle, Learn New Tricks, and Enjoy Lots of Delectable Austin Eats!
As soon as I received the email announcing that registration for BlogathonATX 2013, I sign up for one of the 100 or so coveted seats.
I've been to the last three, and now it is a must-attend annual event for me.
Haven't heard of BlogathonATX? it's like a day-long blogging camp for adults held on a Saturday in October.
Here's the official description from the website:
"Since making its debut onto Austin's social media scene, #BlogathonATX® has taken the city by storm. It all started with a tweet in the summer of 2010, and has grown into the hottest ticket in town for both established and aspiring bloggers alike."
Here are more deets from the Eventbrite registration page:
"#BlogathonATX is an annual day-long event facilitating blogging, collaboration, tech support, and roundtable discussions led by Austin's brightest blogging experts and social media enthusiasts. All levels welcome! Experienced Blogger? Come join your blogging colleagues and share information on the latest trends. New Blogger? We have a staff dedicated to helping you with technical questions as you ease your way into the blogging waters. Blog curious? Come see what all the fuss is about. While many people come to BlogathonATX to write, just as many come for all the other activities and great socializing."
The event was founded by and continues to be headed by Ilene Haddad, who goes by the moniker IleenieWeenie. She describes herself as "a graphic designer and clumsy resident of Earth." She is also BlogathonATX hostess extraordinaire.
Why I Love — and Will Never Miss — a BlogathonATX
The reason I love the event can be summarized in three words—learning, socializing, eating! This event combines the best of all three (essentials for any serious blogger).
The learning ops are stellar—everything from successful bloggers sharing their secrets to techies explaining SEO.
The socializing is sublime—hey, we're all bloggers!
The food is delicious and plentiful (and, believe it or not, included in the event's low price of $40—thanks to several generous donations)—from breakfast tacos and hot coffee in the morning to an afternoon sushi break, the edible delights keep rolling out—and keep our energy running high.
Setting Up and Settling in for a Day of Fun — and a Little Blogging
When you arrive around 9:00 a.m., the first thing you do is find your place.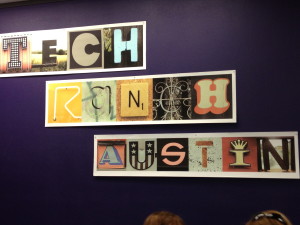 The Tech Ranch Austin on Old Jollyville Road hosts the event in its wonderful meeting space. However, the layout changed significantly from last year.
Previously, the main room was a big square classroom with tables and chairs. Our food table was in a separate room, and there were a couple of other small rooms for tech talks and blogging in silence.
Now the meeting area is one big long narrow room with a variety of seating options, from a few skinny tables and chairs, to soft chairs and couches, to chairs around long tables.
I scored one of the last seats at the skinny tables near the windows and the main speaker area.
However, getting in and out of my spot required a carefully orchestrated zigzag traverse down the skinny aisles.
Those of us sitting in that area quickly got the hang of maneuvering between chairs and helping each other make the journey. (Note to self: Get there earlier next year to snag a seat on the outside of the skinny tables.)
With your seat secured, and your laptop plugged in and turned on, you are free to roam about—most importantly to the food table.
The day's food delights begin with hot coffee provided by Kohana (yum!), tea, breakfast tacos, various pastries, and fresh fruit.
Bloggers munch their breakfast while chitchatting or checking email—or actually blogging!
However, before you know it, it's time for the first learning session.
Awesome Blogger Learning Ops — From Techie to Business
This year's first session set the tone for an information-packed day.
Bloggers and Authors on Writing was a panel discussion with several local writers including:
Evin Cooper, a self-described "foul-mouthed" mommy blogger writing.
Owen Egerton, an Austin writer and performer.
Helen Ginger, a local author.
Crystal Edwards, a professional copywriter and editor.
Becka Oliver, Executive Director of the Writers' League of Texas.
At 11:00 a.m., we could attend an SEO 101 class with Elmer Boutin from Rockfish Digital at the large tables at the other end of the room.
From 1:00 to 2:00, two attorneys, Alicia Calzada and David Wells, discussed Intellectual Properties.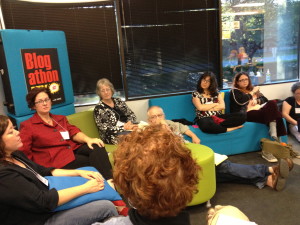 At 2:00, Happiness Engineer at WordPress.com, Jackie Dana, discussed WordPress 101.
At 4:00, Eric Weiss presented Intermediate SEO.
At 5:00, the last session of the day was a casual panel discussion—the Business Blogging Roundtable, with several bloggers discussing the topic and taking comments and questions from the rest of us.
Socializing Ops Around Every Corner
Like any writing job, blogging is a solitary pursuit. That's one reason why it's important for bloggers to get out and socialize now and then—for fun and our sanity.
BlogathonATX offers a wonderful opportunity to mingle with our peers. After all, who's going to understand the unique challenges and special needs of a blogger better than other bloggers.
In fact, I met someone in the hall and struck up a conversation about writing for Austin companies over the past couple of decades. We were so engaged that we missed the learning session on Intellectual Property.
However, I was able to catch the two (very helpful) lawyers, and ask them my most burning legal question.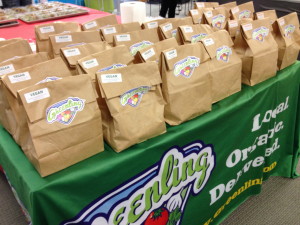 The Food Keeps Rolling Out — Quantity and Quality!
Just in case you need another reason to understand how exceptional BlogathonATX is, here's the day's menu of food that magically appeared on our never-empty food table all day long:
After our breakfast, the coffee, pastries, and fruit kept flowing until lunch at noon.
Plus, Austin's Skinny Limits served us fresh raw juice.
The main course for lunch was sandwiches and vegetarian or gluten-free lunch bags from Austin's Greenling, with salads and Beanito's chips.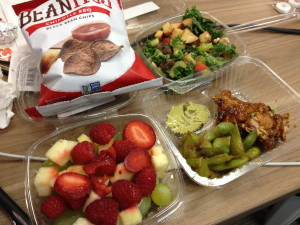 Austin's The Dojo, Japanese Sake Bar served us plates of teriyaki chicken, edamame, and green tea crème brulee. (Super yum!)
Austin's Sarah's Kale Chips brought us servings of her products.
And Konaha brought us iced coffee—which flowed freely the rest of the day!
Ruby's Rockets served frozen fruit and veggie pops.
Austin chocolatier, Delysia, provided samples of its dark chocolate in three delectable favors.
And because everyone needs an afternoon pick me up, Roll On Sushi delivered a large platter of sushi to us.
Suffice to say, that any trip to our food table was a trip to bountiful!
I almost forgot to mention that at this year's event massage therapists from The Austin Body Worker visited us in the afternoon and provided 15-minute chair massages for tips.
Any knots I had in my neck were gone after Denisa Davis performed her magic.
I'll bet by now you understand why I can't wait for BlogathonATX 2014.
Need a copywriter to help write your blog posts—or any other marketing content? Let me know, because I'm available for new projects.