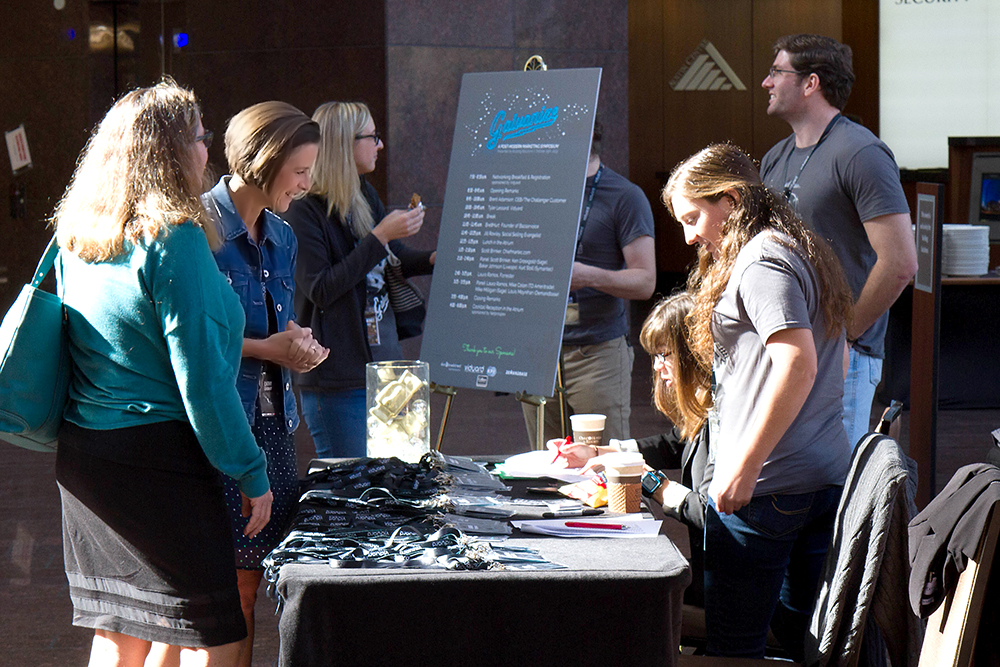 Could you pull off a one-day conference for your clients in less than 90 days? B2B marketing agency Bulldog Solutions did it by galvanizing its team.
The definition of galvanize is to shock or incite someone to take action. So, it's apropos that the theme for the event was "Galvanize: A Post-Modern Marketing Symposium."
It all started in late July 2015 when Vice President of Marketing Erin Riggs had the spark of an idea for a client-focused event. Her next thought was that it should coincide with the company's annual Halloween party. With the decision made, the clock started ticking.
After securing a venue (Omni hotel), theme (Galvanize), and speakers (11 marketing and sales leaders), Erin and her team (which eventually included almost everyone in the company) had about one month to promote the event.
The result was one of the most enjoyable and information-rich conferences I've ever attended. While the content was stellar, I was also impressed by Bulldog's incredible feat — pulling off the event in less than 90 days. So I asked a few questions to understand how and why the company galvanized for the event.
Q. What was your inspiration for the conference?
Erin: In today's world we're dealing with an overwhelming rate of change. It takes courage to make a move when everything feels so uncertain. But maintaining the status quo or doing nothing is often the riskiest option in the bigger picture.
I love conferences with inspiring speakers and great ideas that energize you. If you can ride that energy, you return to work with a new perspective and renewed momentum. It helps you make change happen.
Q. How did you pull it off in such a short timeframe?
Erin: Of course, the rush aspect was self-inflicted. But we were on the tail end of spinning off our software business, which had consumed most of the first half of 2015. So, the timing was a product of that transformative event for Bulldog. We were re-launching our brand, so the timeframe made sense at the time. I'm not going to lie, if I did it all over, I'm not sure I would have been so aggressive with the date!
Q. You had a whole day of great speakers. How did you select them?
Erin: It started with a wish list. We were looking for speakers who embraced the spirit of "Galvanize." When you geek out over something with people who are like-minded, things happen more organically.
Booking our first speaker, Scott Brinker, was the day the whole thing became real. Beyond that it was about crafting the Galvanize story and making sure each new speaker we approached was true to that vision. We were looking for speakers who challenge thinking and take risks, and encourage others to do the same.
Q. What were the results?
Erin: The feedback from attendees, sponsors, clients, employees, and speakers was all so positive. I worried leading up to and the day of the event. But by the cocktail hour, we were all just ecstatic.
Q. Will you do it again?
Erin: Definitely. Galvanize 2.0 is already in early-stage planning.
Q. What galvanizing event-planning tips can you share with other companies?
Erin: My four main lessons learned were:
Have a theme and stick to it. Every message is amplified when it's a part of your overarching theme.
When it comes to speakers, choose quality over quantity. It's okay to offer a one-track experience.
Constantly question the value you are delivering to your attendees, because it all comes down to their experience.
Give yourself at least six months to plan — maybe even 12!
Galvanizing Insights from the Speakers
Probably the most amazing part of Bulldog's three-month feat was the slate of speakers and depth of the content delivered. Here are highlights from the speakers' galvanizing sessions.
Brent Adamson, CEB — Introduction to the Challenger Customer
"Today's sales and marketing organizations are getting better at things that no longer matter," stated Brent Adamson. In today's congested marketing world, sales and marketing organization need to switch things up. He recommends the Challenger Customer theory, outlined in his book. First, find the right person in the company to target among seven mental models. This is usually the Skeptic. Next, deliver the right message by showing them where their company is failing (without your solution).
Tyler Lessard, Vidyard — Personalize Your Videos
Everyone knows video is the best-performing medium today for click-throughs and engagement. But Vidyard discovered a way to boost performance by 15 times the norm — personalization. Vidyard is adding personalization everywhere from email subject lives to inside the videos themselves. Tyler Lessard predicts that personalizing videos will be a key strategy in the new era of engagement marketing.
Brett Hurt, Bazaarvoice — Get Customers Talking
There's no escaping the power of word of mouth advertising, said Brent Hurt. Today it's most powerfully executed in customer reviews. That's amazing to consider when you realize that in 2005 only three retailers accepted customer reviews. Of course, Amazon paved the way as the first and largest online retailer to embrace reviews — and we all never looked back.
Jill Rowley, Social Media Evangelist — Socially Surround Your Prospects
Buyers have changed more in the past 10 years than in the last 1,000! Yet, sales and marketing teams are still using decades-old systems, said Jill Rowley. To be effective, sales organizations have to get involved in the discussion earlier and know more about the customers than ever before. To that end, they should leverage social media to become both more visible and relevant.
Scott Brinker, Chiefmartech.com — Focus on Creating Customer Experiences
Scott Brinker created the famous graphic of over 2,000 sales and marketing technologies. "It's a proxy for the level of change in this industry," he said. Yet, with all of this technology, 67 percent of marketers say they don't have all the tools they need. That's likely because "marketing as we know it is being fundamentally transformed. And it's hard to grapple with so much change." Scott advises, rather than focus on the lack of an ideal slate of technologies, focus on creating valuable customer experiences.
Laura Ramos, Forrester — Customer Obsession is Winning
Laura Ramos presented the results of a Forrester study on the impact of "customer obsessed" companies conducted to find out: Does it pay off? "Yes, it does. We found that marketing-led companies will thrive in the age of the customer." In fact, the research showed they outperform in three key metrics (with a strong correlation):
Faster revenue growth by 48 percent
Hitting or exceeding goals by 51 percent
Increased customer recommendations by 91 percent
Note: The Forrester report on customer-obsessed companies will be publicly available soon! I'll post on Twitter when it's ready @KarenWritesATX.
Photo Credit: (c) Bulldog Solutions