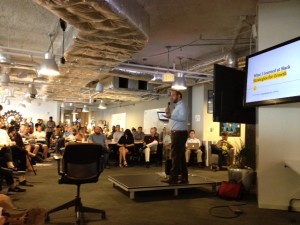 What do a cartoon rooster, a PR story about diversity, and measuring both sides of a business tradeoff have to do with the phenomenal success of Slack?
That's what Kenneth Berger came to Austin to tell us at the ProductAustin Meetup at Capital Factory on September 8th.
Kenneth, who was the original Product Manager at Slack, presented three strategies that helped Slack take over the enterprise — launching cliché-free PR stories, aiming for peaks in user experience, and measuring both sides in business tradeoffs.
Stack Strategy 1 — Create Cliché-free PR Stories
As a marketer, you've got to love a guy who understands the value of original, cliché-free stories that can capture the attention of the jaded media.
Slack became a master at PR early — developing a knack for sussing out clever, unusual, and interesting stories to tell in the media.
"We invested in PR early and began building relationships and trust with journalists. In fact, we didn't do any marketing in the beginning," said Kenneth.
He cited six examples of big stories Slack leveraged for PR:
An Email Killer: "Flickr Co-Founders Launch Slack as an Email Killer"
An Underdog Success Story: "Third Life Flicker Co-Founder Pulls Unlikely Success from Gaming Failure. Again."
Catalyst of Organizational Transformation: "We're selling better organization better teams."
Massive Growth. No Marketing Required: "Slack has grown entirely (and phenomenally) by word of mouth."
The Next Microsoft: "But — the Microsoft you want to use!"
Diversity as a Core Value: "That 'useless' liberal arts degree has become tech's hottest ticket."
Kenneth shared several insights on how to find your company's big cliche-free stories:
You've got big ideas. Go tell big stories.
Avoid normal stories. You've got to go beyond the clichés.
What are your underlying truths? What do you believe that other companies don't?
Look for ideas about what your company is doing at a higher level — it's bigger mission.
Look for stories that are genuinely disruptive.
Stack Strategy 2 — Aim for Peaks in Customer Experience
You can build a flat product with everything in your vision moderately function — OR you can build out a few features to great heights. "Giving your customers peak thrills is the way to engender passion," said Kenneth.
"At Slack, we always tried to add little joyful details where it made sense."
This doesn't mean you have to go big or go home. "The ethos is simply to do more than the bare minimum — not everywhere, but a sprinkling of places where it counts."
He shared three of Slack's joyful peaks:
1. A Rooster. Broadcasting alerts to an entire @channel on Slack, especially large channels, created a moment of panic in the senders. After all, send too many alerts to the team and people start to ignore them. Slack eased the tension by adding a cartoon of a crowing rooster to the alert — effectively telling people: "If it's important, go ahead and hit the @channel send button." Slack received a lot of positive feedback on the graphic.
2. A Reduction. One of Slack's benefits is reduced email. But when people used Slack's push feature, it would trigger a push notification and an email notification. "It's annoying. There's no reason we should be getting two notifications," said Kenneth.
"We simply sent one more email to tell them, you're no longer going to get push email notifications now. Push is a better way to get notifications."
"It was a tiny, simple detail, but we made visible the thought we put into it. A lot of design details are visible. You never get credit for them. But it made sense for us to let users know. As a result, we got tons of positive feedback for the change. It showed that we cared about their experience."
3. A Refund. In subscription services, companies have come to expect lost revenue when they don't use all of the seats they paid for every month. This creates tension to use the seats they paid for.
"We decided that we were just going to refund our customers for any seats that weren't in use during a billing period," said Kenneth.
"We thought that creating a peak in the billing process was a huge opportunity, because no one expects it. Naturally we get a lot of positive feedback on this peak experience."
Slack Strategy 3 — Measure Both Sides in Tradeoffs
"Every decision you make in product development is a tradeoff. While it's seductive to rally around one goal, one metric is not enough to determine your success," explained Kenneth.
"Making software is hard. Your vision is a series of bets you make on the future. What happens if those bets don't pay off? It's rare that one metric will go up during every stage of product development."
His advice? Measure both the sides of every decision — otherwise you won't see the whole story — for example:
When you send an email, some users will click and some will unsubscribe.
When you decide to focus on your existing clients, you'll increase customer satisfaction and lower the rate of growth into new areas.
"Big growth does not coming from doing the same thing, no matter how great the growth rate is for that one thing," Kenneth concluded.
Watch Kenneth Berger's talk.
Learn more about the peaks and valleys of customer experience.
Learn more about the rooster.