I had only 90 seconds to gain a seat at my first CreativeMornings/Austin event.
The email arrived at 10:01 a.m. on a Monday morning. I opened the event's web page, and set my phone alarm for 10:59 a.m.
At 10:59, the alarm blared. I started refreshing the event page non-stop. Every time the large oval register button was grayed out.
My heart was racing. Would I get in this time?
At exactly 11 a.m., the button went live — trumpeting a single word: "Register."
I clicked it. A new page opened asking if I was a guest or returning member.
Darn. I mentally kicked myself as I realized I could have registered ahead, and then signed up faster as a member.
I typed my email, first name, and last name in the appointed three boxes as fast as possible. Was I really shaking?
Finally, I clicked the big orange register button. A new web page appeared. "Success," it announced. I was in! Yes!
It was 11:02 a.m. Out of curiosity, I refreshed the page again. All of the available seats were already gone.
Finally, I had a confirmed seat to the exclusive CreativeMornings meeting on Friday. I didn't even care what the topic was.
Yes, I realize the group was using Cialdini's scarcity principle on me. It worked like a charm.
When CreativeMornings Came to Town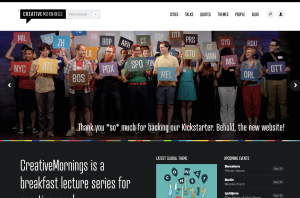 I still don't know how I missed the launch of CreativeMornings/Austin in early 2013. After all, I'm an information junkie — especially for anything marketing or creativity oriented.
I'm always scouring every available resource, searching for interesting, inspiring, and informative events. Yet, this one had slipped through my radar for its first several months of existence in Austin.
Once I learned about the monthly events, which are held in different venues from Oak Hill to Round Rock, I tried to sign up for the next event. But I was informed it was full.
I clicked the button to be added to the wait list. But I never heard another word.
So, I joined the email list and waited for the following month's announcement.
CreativeMornings' Origin Story
According to its website, CreativeMornings is a "breakfast lecture series for the creative community."
Its About page says:

In 2008, Tina Roth Eisenberg (Swissmiss) started CreativeMornings out of a desire for an ongoing, accessible event for New York's creative community. The concept was simple: breakfast and a short talk one Friday morning a month. Every event would be free of charge and open to anyone.

Today, attendees gather in cities around the world to enjoy fresh coffee, friendly people, and an international array of breakfast foods. Volunteer hosts and their team members organize local chapters that not only celebrate a city's creative talent, but also promote an open space to connect with like-minded individuals.
Today there are CreativeMornings meetings in 117 cities, from Dublin to Denver.
In Austin, the coordinator is Ben Thoma. He describes himself as a "Creative Catalyst for brands, communities & humanity." His website says:
I helped to start CreativeMornings/Austin and now serve as Lead Organizer & Host. In a past life, I made big ad campaigns for big brands. I also have won a collegiate national championship as a mascot, earned my Eagle Scout and now have two smaller humans calling me "Dad." I enjoy off-centered beers, editing Waze, and being a jack-of-all-trades.
Inside CreativeMornings/Austin
CreativeMornings/Austin meetings are held at different venues every month. Some sites have included TOMS on South Congress, the Lady Bird Wild Flower Center, the Austin American-Statesman, and St. Philip.
Events last about an hour and a half, and follow a set pattern:
Arrive. Get some free coffee and breakfast tacos (all free thanks to sponsors!).
Chitchat and network with the other attendees.
Ben makes some announcements. Then he introduces the live music. The singer or band plays about three songs.
Ben introduces the speaker, and we sit back and learn.
Q&A, which usually includes some chachkies for those who ask questions (so far I've scored a t-shirt with kittens and a MailChimp monkey hat!).
In the past year, I've heard a wide range of Austinites tell their interesting, creative stories including:
CreativeMornings/Austin celebrated its two-year anniversary in March 2015 at the Treehouse home improvement store. Ben's website features a photo taken to commemorate the event. I'm in it!
This month's meeting is tomorrow. The theme is "collaborate." The speaker is singer/songwriter Darden Smith. The venue is the Vuka co-working site off of South First.
The event is already full. But you can get on the wait list — and cross your fingers.
Or get on the mailing list and get ready to register next month — at 11:00 a.m. Sharp!
I'll be tweeting @KarenWritesATX!
UPDATE — Friday July 10 — This morning's CreativeMornings/Austin was one for the record books. I cried! Darden Smith's story of collaborating with soldiers to write songs and singing one of the songs for us was a heartbreaker. He is doing great things with SongwritingWith: Soliders.
Here is the video from the talk. Darden Smith at Creative Morning Austin.