How I Became an Accidental University of Texas Student for a Night — And What I Learned About Entrepreneurism from reddit's Co-founder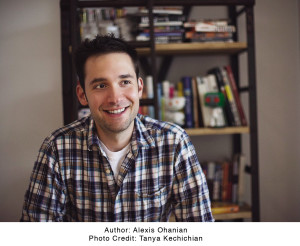 I'm always hunting for interesting learning opportunities—and Austin offers up a never-ending smorgasbord. (It's one of the reasons I love this city.)
Last month, I found a post on Eventbrite entitled: Alexis Ohanian's Epic Without Their Permission Book Tour.
It sounded great to me—because I love book readings and author events.
I'd just come off the annual two-day bender called the Texas Book Festival. But I felt this was a rare opportunity to hear the co-found of the uber-popular reddit.com.
The event was being held in a building on the University of Texas campus. I arrived on the evening of October 28th with a vague idea of the building's location.
But as I wound through the 40-acre UT maze in the dark, I realized my iPhone map was no help.
However, thankfully, several UT students were. Along the way, I ended up asking four students, "Do you know where Burdine Hall is?"
One young man even walked me part way there!
I finally found the building. I was 10 minutes late, but the session hadn't started yet.
I glanced around at the auditorium-style, well-worn classroom and saw only college-age kids. There were no people my age. (Don't ask.)
I'm sure I stood out in the crowd. I thought I felt many eyes looking at me.
I felt out of place and decided to bolt out of there. But then one of the three guys on the stage started speaking. I decided to listen for a few minutes, then leave.
However, I forgot all about leaving once Alexis started talking.
Author Leads a Pep Rally in Entrepreneurism to College Kids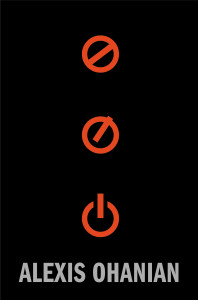 As soon as Alexis began speaking, it became clear to me that this was not your typical book reading or author event. (There weren't even any copies of Without Their Permission: How the 21st Century Will Be Made, Not Managed to purchase.)
It was basically a pep rally designed to encourage college kids to become entrepreneurs.
Later I found this description on his website:
"The essential message throughout the book is that you don't need anybody's permission to do things on the Internet. This is a critical message for everyone to hear over and over again. Because it is so different from anything that has come before which always involved gatekeepers. Alexis does a mighty great job using the impressive things he has done to illustrate this message and make it tangible, all the while remaining understated."
On his website, Alexis said that three things inspire him: Perseverance, luck, and the Internet.
And, indeed, those were the topics he spoke to during his hour-long talk—delivered with passion, intelligence, and a lot of humor.
Here's a recap.
The Internet — "They Merely Adopted the Internet. We Were Born into it."
He started out by telling the students: "They merely adopted the Internet. We were born into it." (Ouch!)
"Thanks to the Internet, we are more liberated than we've ever been before to do new things."
He added, "Do the thing you want to do without waiting for permission.
"Find what you are passionate about, and if you can find an audience, who says you can't do it?"
He stressed the advantage of being able to code. "Coding is the next form of literacy. If you have that talent, use it to start coding your own products."
He talked about how he and his partner, Steve Huffman, started reddit, which is a top 100 website with over 70 million users.
"We were just two college kids in an apartment," he said. "But the Internet, if not the world, is flat. Anyone can get on and create whatever they want."
Perseverance — "Entrepreneur is French for 'Has Ideas, Does Them.'"
Ideas are worthless; execution is everything, according to Alexis.
He joked that "entrepreneur is French for 'has ideas, does them.'"
"People can find excuses not to do anything.
"There will be failures along the way. In fact, all start-ups are in a perpetual state of falling apart. No one has it all figured out. If they say they do they are lying, delusional, or crazy."
He added that we spend our whole life fearing failure, struggling to check the right boxes. But "life is full of fails," so embrace them because they provide the opportunity to learn.
"The first version of anything is never what the product becomes. If you wait for perfection, you'll never launch.
"Be dedicated to your craft, focus obsessively, and develop a unique voice."
Alexis also had this tip: During your college years, "keep your side hustle going."
In other words, "take advantage of your school's system. Hack everything. Use your graphic design class to create your logo. Use your computer class to write your own code. The college campus of today is the Silicon Valley of yesterday."
Luck — "We Had no Idea How to do it, but We Jumped in Anyway"
One spring, instead of heading off to Spring Break with the rest of their friends, Alexis and his partner attended a startup boot camp, Y Combinator, to pitch their product idea.
The pair approached the bootcamp's co-founder, Paul Graham, with their idea for a mobile app called MyMobileMenu, which would allow people to order takeout food before arriving at restaurants.
"Its acronym was MMM, as in mmmmm good. We thought it was genius," said Alexis.
Perhaps it was, but it was also only 2004, and Paul told them the phone technology wasn't ready yet.
Then he suggested they start a "front page on the Internet."
"We had no idea how to do it, but we jumped in anyway. It was pure luck."
As most believe, luck happens when you are focused on your goals. As Louis Pasteur famously said: "Chance favors the prepared mind."
Alexis is all about helping prepare the minds of college-age kids across the country for Internet entrepreneurship.
His five-month book tour and entrepreneur pep rally is landing in a dizzying number of locations.
My recap cannot possibly capture the intensity of Alexis in person—or the power of his message.
If you're lucky enough to be near one of the stops on his five-month book tour-pep rally, I highly advise you to hear him in person—even if you are the oldest person in the room.