Highlights from SXSW Off-the-Grid Events
Did you know that the non-official SXSW Interactive events all serve food and drinks? And some of it's pretty good.
An event at Max's Wine Dive served all kinds of delectable dishes, including its famous fried chicken. At Marketo's event, one day I had tacos and shepard's pie. Picora gave us delicious sub sandwiches.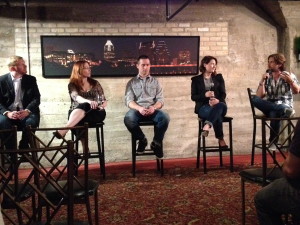 But the food was not the only reason to attend the non-official events sponsored by companies at venues near the Conference Center. I learned a lot of really interesting things from some very smart people.
Here's how good some of the free sessions were — people with badges were attending them!
Whenever I debate the merits of purchasing a badge and attending the official event (no doubt, a great opportunity), I just remember the amazing sessions off-the-grid — and off my credit card.
And there are a lot of them. In fact, I was double-booked all day Saturday — and had to make some tough decisions on which talks to attend and which to miss.
I'm sharing a quick roundup of eight highlights from the many interesting sessions I attended on Saturday, Sunday, and Monday of SXSW Interactive.
1. Piggyback on Company's Culture to Earn Funding for Social Media.
SocialChorus chose the swanky basement meeting room at Max's Wine Dive to give its panel discussion. Whole Foods Market's Global Director Social Media, CRM, and Customer Service, Natanya Anderson, said she got support for employees sharing their stories on social media when she reframed it.
"Our team is very important to Whole Foods' culture, so when I wanted to get money to spend on social media my pitch was that 'this is an opportunity to amplify our team members, while building our social value. I positioned it as a function of our authenticity. And I got the funding."
2. Transition from Mass Communication to Mass Communicators.
At the SocialChorus discussion, Ryon Harms, Farmers Insurance's former Director of Social Media, made a case for publishing and promoting a wide variety of content. One way to accomplish this is to enlist many voices in content creation.
"Content is an ongoing challenge. And there's still a general lack of understanding that the third-person 'brand perspective' days are over. Now it's all about an 'I perspective.' A smart goal is to put as much relevant content out there as you can and let your audience pick and choose what is meaningful to them."
3. Build Community on Instagram Using Clever Hashtags.
Piqora took over a tiny office space on East 5th street for three days — hosting great talks every day. On Sunday, I learned some awesome Instagram pointers from the New York City two-man team that heads up the popular blog with "restaurant reviews for the people," The Infatuation. Their popular #eeeeeats (yes, five e's) hashtag has racked up over 200,000 followers on Instagram.
"Create something people want to interact with," said co-founder, Chris Stang. "For example, the right hashtag is a great way to get recognized and be heard. If you do it right, people will bond around your brand. There are so many voices around eeeeeats, like Hurricane Sandy Snacks and the Infatuation Bake Sale. If you give them a voice, you win."
4. If You're Going to Post on Instagram, Take Great Photos.
The guys from The Infatuation shared their favorite photo tips. "Use natural light. We've been known to take our plates over to the window of restaurants to get the right lighting. Yep, were 'those guys,'" said co-founder Andrew Steinthal.
Be selective. "No brown soup or pudding shots!" Also, no shadows, aim for a good background, and get perspective.
Here's a fun post from the guys.
5. Brands Need More Authentic Visuals.
Speaking of marketing with visuals, over at the Marketo off-the-grid venue at the historic Vulcan Gasworks Company building on East 5th, Dayna Rothman, Senior Content Marketing Manager, spoke about creating viral content. "Going viral demands more authentic visuals."
She advised the audience to think like the owner of Grumpy Cat. "Push the envelope. The more engaging and relevant your images the better." Once you establish a following, "focus on how to capitalize on it."
6. To Go Viral, Evoke People's Emotions.
Dayna Rothman also provided insight on creating viral content. Key aspects of creating viral content is being controversial ("without being polarizing"), being outrageous ("in a way that provokes thought"), and being hilarious ("think Winnebago Man").
Viral headlines also need to evoke emotions, such as, awe (with a cliff-hanger that demands a click), anger ("people want a voice and to be heard"), fear ("tension evokes action"), and joy ("people like to feel good").
7. Brands Need to Create Experiences that Align with Their Master Narrative.
Back at Piqora on Monday, Catherine Martin from Edelman Digital spoke about how agencies are making the transition to digital marketing. "You can't necessarily use the same content everywhere. You have to think of the audience on each platform and create great experiences that match the tone."
While digital is changing marketing in many important ways, some basics are still critical, like having a master narrative. "Companies still have to ask themselves who is their audience, how do they find them, and what's the overarching brand message. You still have to be smart strategically."
After this year's slate of great free content, I can't wait to see what I'll find off-the-grid at SXSW Interactive in 2016!