Simply Acquiring Views Should Not Be the Point — Two Video Experts Advise Clients to Take a "Whole Hog" Approach to Video Marketing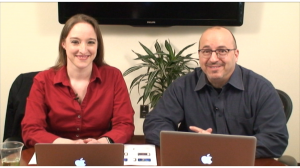 "Let's create a viral video!"
How many times have you heard this expression — with its mix of enthusiasm and naïveté?
If it were that easy to create a viral video everyone would be doing it.
The reality is that no one knows which videos will capture people's attention, elicit massive sharing in a short period of time, and reach the true status of "viral."
For every "Gangnam Style," there are millions of random silly, funny, and cool dance videos that people never see. (Note: So far Gangnam Style, with over one billion views, is the highest-ranking viral video ever.)
Like blockbuster movies, books, and bands, a few in millions will ever achieve massive audiences.
So what's a marketer with a mission to build subscriptions, leads, and conversions supposed to do?
View Counts are so Yesterday — Viewing Time is Hot Now
The point should not be to create a viral video for its own sake, but to create videos that achieve a company's specific objectives, said Bettina Hein, CEO, and Rob Ciampa, VP of Sales, of Pixability.
"When we ask new clients what they want to achieve with their videos, they often respond: 'We just want it to go viral.' But they don't really understand what that means."
What's more, while views are great, they are by far not the most important result, said Ciampa.
"For example, Heineken had a video with four million views, but when you looked into the stats, 84 percent of those views were from paid advertising, not social sharing. That's not viral.
"Besides," Ciampa pointed out, "these days YouTube ranks videos higher based on view time rather than view counts."
Go "Whole Hog" to Create High-Impact Videos
Hein and Ciampa presented a session at SXSW in March titled, "Mythbusting: Engineering a Viral Video." The session was so popular they presented it again in a webinar in mid-April.
In the presentation, they discussed the elements of creating videos that do more than just "go viral" — they advance companies' specific business goals.
"Video is not necessarily a sales tool, but it's a great middle of the funnel tool," noted Hein. "If you use it in this way, you can maximize your reach and results to build bigger audiences, drive leads down the funnel, and more."
To explain their video development and marketing, process they created a memorable analogy they call "Whole Hog," with six parts: the brain, heart, ribs, underbelly, quality feed, and tail.
Six Best Practices to Create Goal-Focused Videos
Hein and Ciampa shared six tips for creating videos focused to achieve companies' goals:
1. Heart.
"Anyway you slice or dice it, at the heart of every great video is the content," said Hein.
"You need a compelling story and message that is relevant to your audience."
2. Brain.
Marketers need to use the data and analytics intelligently to optimize their video results, including title tags, descriptions, target links, annotations, and more.
"YouTube is not just a place to watch videos," noted Ciampa. "It's also a massive database, including metadata, most popular content, audience size, view lengths, social reactions, traffic sources, and much more.
"Tapping into this data will help you make more informed decisions regarding your video creation and distribution."
3. Ribs.
Once you've created a video you have to begin the sharing process on your social media channels.
"But not just anywhere or everywhere. You have to go where your audience lives," noted Ciampa.
"This may sound obvious, but surprisingly, some companies even fail to put their videos on their own websites," added Hein.
4. Underbelly.
Suppose someone offers to boost your views to one million for $800? Sounds like a bargain, right?
"Don't do it," warns Ciampa. "It's a bad idea."
"The underbelly of videos involves using robots and incentivized views. This is frowned on by YouTube, which often penalizes these actions or even closes down accounts."
Naturally, not all incentivized promotions are bad. But Pixability recommends you use them legitimately.
5. Quality Feed.
Once the video is ready, many marketers should "feed" it — in the form of quality advertising.
Not all paid advertising is bad. In fact, a mix of advertising and social sharing is a solid strategy to drive targeted audiences to your videos, said Ciampa.
"Paid, owned, and earned should be well planned so that they can work together."
6. Tail.
Many viral videos share one intangible characteristic that is impossible to manufacture: luck.
Just in case you get lucky, a final tip from Pixability team is: "Be ready for it."
"We had a client who created a video that a TV station wanted to air. But it took two days to get corporate approval — and by then it was too late.
"They missed the PR opportunity to reach a bigger audience with their video."
Let that be a cautionary "tail" for all marketers!
Pixability's next webinar on video marketing is scheduled for June 19.
Looking for a professional freelance content writer? Let me know!